08 Dec

12 years ago at 7 pm, a woman found shelter…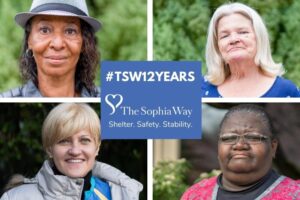 Exactly twelve years ago, at 7 pm, we welcomed a woman into The Sophia's Way's overnight shelter at First Congregational Church. It was snowing hard outside. She was offered a hot dinner and a warm night's sleep. A few months later, her case manager helped her move into her own home. In the years since, the organization has provided shelter, safety, and stability to more than 5,000 women. At the start, we employed five individuals, and today we have 35 employees carrying out the mission and supporting women. Next year's budget was approved for nearly $3.5 million! The need has grown, and we've grown too!
2020 has certainly not been what we were planning for a year ago, but today we celebrate that —
Helen's Place, the new shelter in Kirkland, serves 40 women 24/7
Sophia's Place, the extended-stay shelter, houses 21 women 24/7
The Day Center provides walk-in day services for dozens of women living in their cars, tents, and on the streets
We will triple the number of meals served from 2019 by year-end
At this point in time (knock wood) no one in the shelters has tested COVID-positive
Keeping safe and healthy during the pandemic is our number one priority and is not easy. I am incredibly proud of the entire team's work and deeply grateful for the community's generosity in coming to aid women without homes during these trying times. It takes a village and this year, each one of you has helped ensure that women have a safe, warm place to rest and rebuild their lives.
Soon we will have a vaccine in place and begin the arduous process of protecting everyone from COVID-19. Until that time, we miss having loyal and generous volunteers working in the shelters or the office. Until that day, the only way to see our new shelter is by a virtual tour. Until we are all safe, we continue to work tirelessly to protect woman who are in need of shelter and stability to stay strong, especially through the pandemic and the cold winter months ahead. And, we look forward to a new tomorrow when our community, nation, and the world can once again feel safe.
On behalf of the board of directors, staff, and the women we serve, we thank you from the bottom of our hearts for your support and compassion which provides the women with hope and joy.
Wishing you good health and happy holidays,
Alisa Chatinsky
Executive Director
P.S. Take a walk down memory lane and view the highlights of The Sophia Way's journey.