06 Feb

2017 – Citizen of the Year Award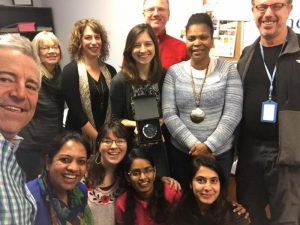 The Sophia Way was thrilled to be selected as co-recipients of the "Citizen of the Year" Award at the Annual Breakfast of Forum XXII – an alliance of experienced Realtors® – who honor individuals and groups that have made outstanding contributions to the community.
The mutual objective of all members of Forum XXII is to foster fair and friendly cooperation, exchange creative ideas, promote continuing education and focus on professionalism with an emphasis on ethics.
This recognition that we are honored to share with Congregations for the Homeless, acknowledges the record-breaking impact we have had in 2017 and over the last few years. This award belongs to those women and men who are fighting against all odds, experiencing difficult situations but handle it with such dignity and grace always supporting each other.
The work we are doing would not be possible without the community's generosity. Thanks to all for being our pillar!