13 Jun

A Clean Sweep!

At Sophia's Place, we provide shelter and support to nearly 35 women every day, all days of the week.  And to 21 women every night. Our staff works hard to take care of them and keep the shelter functional and clean. But, sometimes we need a helping hand, and that's where our wonderful volunteers step up for that additional support.

This week we had help from an amazing group of volunteers from Symetra.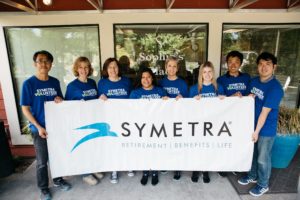 Kicking of their 11th annual Week of Service, Symetra employees – nearly 15 of them – trooped in on Monday (June 10) afternoon and spent the next two hours sweeping, mopping, and cleaning our shelter from top to bottom! Not only that they tackled the kitchen area to clean and arrange the pantry and fridges! Two days later, the second group from Symetra came in to carry on deep cleaning and other work. They also unpacked, sorted, and arranged bags and bags of donations into their respective bins and brought order to Sophia's Closet (our donation room).
This is the fourth year that Symetra employees have volunteered at Sophia's Place during their Week of Service. We could not be more appreciative of their hard work. "Symetra volunteers are passionate about the women we serve and come here to make a deep personal difference. They dig in and do whatever we ask of them, and we are very grateful for their time and work!" – Linda Benson, Director of Community Development, The Sophia Way.
In their press release, Symetra CEO Margaret Meister stated, "We are proud to support our employees' volunteer spirit during Symetra Week of Service and throughout the year. As individuals, our employees are empowered to give back to the causes and organizations that matter to them personally through hands-on service opportunities like this. Every year, we all look forward to this powerful expression of Symetra's 'Swift to Serve' core value as we come together on behalf of our communities."
Symetra truly celebrates the power of community volunteerism!