02 Mar

A Different World

An estimated 2,147 individuals were living in vehicles according to the 2019 King County Point-In-Time count. That is nearly one in five (19%) of the unsheltered population. The Sophia Way's Outreach Program supports people where they are (including vehicles). Sujata Agrawal writes about the challenges faced by this population and how the program supports them.

"It was so hard to deal with the cold, especially the nights when I couldn't run the heat because I had no money for gas. I would layer on most of my clothes, wrap myself in blankets and get into a sleeping bag. My feet were swollen due to an illness, and the only thing I could wear were Crocs.  I had my possessions strewn all around me, and finding a comfortable position to sleep was so difficult." Valerie lived in her car at a safe parking site for more than six months in the winter of 2018/19, until The Sophia Way helped her get transitional housing. Now, when she reflects on "that dark period of her life", she thinks "I made it. I was strong enough to get through it all."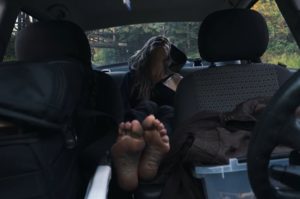 The world of people living in vehicles is different from the population experiencing homelessness that lives on the streets, in camps, or shelters. Surprisingly enough, not all them identify as homeless because they have a place that has four walls and a roof over their head they can call 'home.' However, living is no less taxing. Lack of space and privacy, being cold in the winter and hot in the summer, and needing money to pay for gas, insurance, and maintenance, while waiting for housing is distressing and expensive. Moreover, even though they have a 'home,' they still have to find facilities to shower, do their laundry, and get meals. Psychologically, many do not like to visit shelters or day centers because it drives home the reality of their situation. Which can be quite traumatizing.
The most critical part of living in your vehicle is to find a safe place to park. Many people have to move around often in search of a place where they feel protected. There are 'hot spots' on the Eastside; streets where people can park cars and even RVs for weeks at a time. (Living in an RV can be even more complex because they need bigger spaces). However, when more and more people park in these areas, complaints flow in from the neighborhoods that share the streets. Thus, balancing the length of stay is a much-needed skill. Fortunately, there are safe parking sites, supported by churches, such as Lake Washington United Methodist Church and Overlake Christian Church, where individuals and families can park their vehicles. These are sites where people can stay for months or even years and use the facilities of the hosting church.
Rising rents and lack of affordable housing are the two main reasons that force people to live in their cars. There are also out of state people who come here in the hope of better-paying jobs. But what they do not realize is that the cost of living is also higher. "It's sad," says Jess. "I meet people who had goals and made plans but find that it's completely different from what they imagined. It's tough, especially as they don't know anyone here."
Jess Bermudes is the Vehicle Outreach Navigator for The Sophia Way's Outreach Program that is funded by King County and United Way of King County. In his role, Jess helps the population (individuals and families) that live in their vehicles in Bellevue, Kirkland, Issaquah, and sometimes Redmond.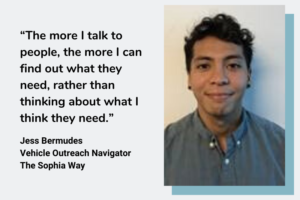 Every day, Jess drives out in his car to safe parking sites, hots spots, coffee shops, libraries – anywhere his clients are. He meets nearly 18 new people every month! His approach when meeting people for the first time is simple – to create a rapport, to be someone they can open their hearts to, someone who listens patiently. "The more I talk to people, the more I can find out what they need, rather than thinking about what I think they need," he says. Often, people will not talk to him, and he accepts this. He says a friendly hi and moves on. "I have to respect their boundaries and strike a balance between keeping myself familiar without annoying them. So when they eventually do need help, hopefully, I will be the first person they think of."
Jess has met some amazing people through outreach – people who once held good jobs, veterans who served for a long time. "There's a wealth of experience on the streets. And, you begin to understand that homelessness can happen to anyone, any time; that these are people just trying to get back on their feet. They don't make plans to lose their home, but life, as they say, happens."
He vividly recalls the first client he housed. The woman worked for the County but had to quit her job to take care of her mother, who lived in Oregon. When her mother passed, she came back to the Eastside, but could not find a job. With no place to stay, she started living in her car. "When I met her at a safe parking site, it was the beginning of her homelessness transition," Jess remembers. "She was sad but not discouraged. She was hopeful that things would change. And it did. I was able to find her permanent housing in south Seattle, and now she is reconnecting with her network to find a job."
Last year, Jess was able to find housing for 65 clients. That is 65 fewer people living in their cars. But limited options and long waiting lists make this a very difficult process. Jess acknowledges that cannot do what he does singlehandedly. He has invested time and effort in building relationships with nonprofit agencies and service providers who support people experiencing homelessness. Together, they work with clients to ensure each person receives what they are looking for; to make the transition out of homelessness as quick and painless, as possible. Jess is particularly pleased with the relationship he has with the Salvation Army, who now call him whenever they know someone needs housing or help.
Recently, Jess met a client at a coffee shop in Bellevue. They is currently living in a safe parking area, after being evicted, and wants to relocate to a different part of the country. It is a little more challenging because identifying as LGBTQ can be hard, and the discussion is around a plan that can help them feel safe. "It would be nice to move into my own house before my birthday," says the client wistfully. And Jess is doing all he can to make that wish come true.
Serving and supporting a population that is traumatized because of the circumstances they find themselves in can be taxing and hard. But, there is no better feeling than knowing that someone who was living in their car is now in a home, sleeping in a bed, safe and warm. And you helped to make that happen.
---
Lake Washington United Methodist Church's Safe Parking Program
The Lake Washington United Methodist Church has a safe parking program that provides a secure place for women and families living in their cars. The program, started in 2011 by The Sophia Way Board Member Karina O'Malley, allows people to park their vehicles (cars and minivans) 24/7 giving the owners stability and refuge. They have more than 50 parking spaces and 3 Port-a-potties. The "residents" can also use the building facilities, at specific times, including the kitchen, toilets, library, and computers. Case managers from The Sophia Way support the population by connecting them to resources and housing as needed.
There are other parking programs on the Eastside, and each one runs independently and offers different services and facilities. What they all offer is a safe environment for people living in vehicles.