16 Aug

A Home of Her Own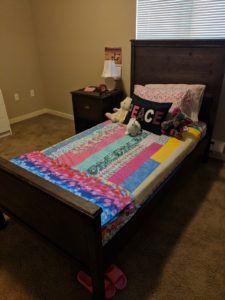 When Kathy* moved into her new home, The Sophia Way board and staff received an email: "I did a move-in recently and wanted to send some photos to you! This is Kathy's new bedroom, which has many items provided by us, including the bed frame and the quilt. The mattress and dresser are from recent donors! You all are amazing! Keep up the wonderful work!"
For Gretchen Phillips-Bond, housing case manager at The Sophia Way and Kathy's case manager it was a moment to celebrate.
Kathy, in her late forties, became homeless nearly two years ago because of the classic reason – she couldn't pay her rent anymore. Her husband had a severe illness, and the huge medical bills ate up all their savings and assets. When her husband passed, she lost her home as well. Moreover, she was unable to get her prescription for pain medication filled (she has a physical disability and is in constant pain) and soon got addicted to heroin.
In January this year, she decided to move from Seattle to the Eastside – she was trying to maintain her sobriety, but it was a little challenging doing that in Seattle. Kathy found her way to The Sophia Way when she stayed at the Emergency Shelter at night and visited the Day Center during the day hours. She was comforted by the fact that she had a safe place to sleep and appreciated everything the staff did for her. Kathy eventually entered the Night Shelter program in the spring. Here she found, as she says, "a sense of community." She also met Gretchen who became her case manager.
"Kathy is sweet, empathetic, and tough," says Gretchen. "She is quite self-sufficient; she just needed help with some paperwork."
She did not have any identity papers or a birth certificate – this was a challenge in getting her into housing. So Gretchen contacted her home state's department and was able to get her papers. She also helped Kathy update her details on Social Security Disability (SSDI), and fill out the application for a Section 8 voucher.
In early July, Kathy proudly opened the door to her own apartment. She finally has a personal space to process her grief that she kept bottled up all these years. She is slowly setting up her place to make it her home.
She has set herself some goals. She wants to maintain her sobriety. She also wants to give back to the community – having received so much help; she wants to volunteer and help women in similar situations. Kathy expressed her gratitude for her Companion, who is "someone that I have found strength in." They've gone shopping together, decorated Kathy's new home, made a vision board, and developed a strong bond. Kathy and her Companion are of similar size, so her Companion has given her new clothes, too.
"Kathy is very invested in improving her situation," affirms Gretchen, who will continue to meet her once or twice a month to help her review her goals and with anything else she needs. She is also always available whenever needed.
Kathy has one piece of advice to give to women experiencing homelessness: "Do not be afraid to ask for help."