30 Apr

A Note From Nurse Kim

From the days when we were first located in the parish hall of Bellevue First Congregational Church to a dedicated, built out space on the same property to our current location at Saint Lukes, it has been a privilege to be the nurse serving the day center. The sad reality of being present with these precious women over the last nine years is that many faces are familiar, some of whom I know from my very first visits.

Through a partnership with Seattle-King County Public Health/Healthcare for the Homeless and HealthPoint I have been fortunate to be able to provide basic nursing services in shelter once a week.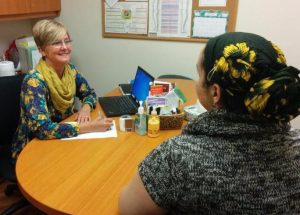 Driven by the goal to provide everyone access to a medical home, I meet women where they are most often most comfortable-outside the traditional clinic or hospital setting.  It is at the day center that I have been able to establish trust and hopefully break down barriers that have prevented them from accessing routine and preventative care.  In addition, I have been able to do small things in shelter which can go a long way to maintain health while without a home such as:  influenza vaccinations, distribution of vitamins and other over the counter medications, blood pressure checks, foot and wound care and lots of health education and coaching.
More than any medical intervention I have found that the greatest gift I can give our women is to be an authentic listener, truly interested in their story.  It is from these relationships that we have built the foundation for some amazing health outcomes.
While we have come a long way from a woman's dream for a day center to our current overnight and day center, we still have much work to do to make homelessness a "one time, brief occurrence".  In the medical community we have a saying that "Housing is Healthcare", recognizing that a stable home is essential to health and healing.
Please join me with your continued support to make this a reality for the women of The Sophia Way.
This note from the heart was written by Kim Hess, Community Health Nurse, Homeless Programs