07 Jul

An Inspiring Project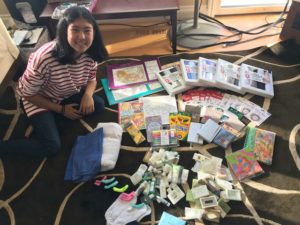 Emi Takayama is a young student who, as part of a school project, explored over 30 days what life is like for a woman experiencing homelessness and the challenges she faces daily.
She had set herself three goals:
I must wash my hair and clothes in my bathroom sink for the first ten days
I must carry toiletries, extra clothes, and other necessities in a bag everywhere I go for the next ten days
I must sleep outside without a tent (when it rains I will go under a roofed area) for the last ten days of the project.
Emi shares her inspiring story of why she did what she did.
When I was twelve years old, my mom and I helped a church group cook and serve hot meals under a bridge in Seattle. I remember the line for food was so long; I could not see its end. As I was handing out the plastic forks and spoons to each person, it struck me how ordinary everyone looked. I saw people of all genders, race, and age. I spoke with some of them, and they were all kind and polite.
I wasn't expecting this; in my mind, I had already made certain assumptions. I began to wonder how seemingly regular people got into situations bringing them to the streets. This initiated my curiosity for the issue, while also realizing that it is a growing problem in our area.
Many people lack an understanding of the issue and develop inaccurate theories about those experiencing homelessness, such as, "it is their fault" or that "they choose to be homeless." When a family becomes homeless due to a sudden tragedy, communities rush together to make sure they get the help they need. We don't realize that there are many individuals, like them, who suffered from their own tragedies. Why don't we help them?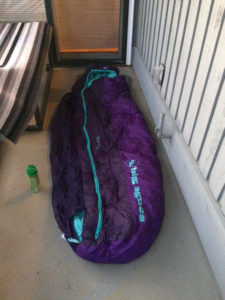 When asked to come up with a project for my social studies class, I immediately knew what I wanted to pursue.  We were told to pick a topic or issue we care about and examine it from a different perspective over the course of a month. My plan consisted of experiencing three significant aspects of homelessness: keeping up hygiene in public spaces, carrying belongings everywhere due to the lack of private space, and sleeping outside.
I adjusted the severity of each aspect and came up with other ways of simulation. Because I didn't have direct access to a public restroom, I used my bathroom sink to wash my hair and clothes in. I carried my personal belongings in a large duffel bag everywhere I went (school, activities, etc.). To sleep outside, I avoided using a tent and slept on my deck with a small cushion, sleeping bag, and pad. This was the toughest part of my project, and during the first couple of days, I struggled with the exhaustion and aches that came with it.
The project just recently ended, and I feel that I learned a great deal from it.  I am grateful to be able to contribute in my small way to The Sophia Way.  My new goal is to continue to serve our community and explore more ways I can contribute to it.
Emi asked some of her friends to donate items needed by women visiting The Sophia's Way's shelter in Bellevue. "I found that the most needed items are: underwear (in all sizes), reading glasses, coloring pencils/books, and gift cards ($10). The gift cards are nice to hand out to the women at the shelter," she says on her blog.
Read more about Emi's story on her blog