10 Jul

And We're Off!

Construction has begun on the new Kirkland Shelter for Women & Families. A true community collaboration between The Sophia Way, New Bethlehem Project (a program of Catholic Community Services), our local governments, private foundations, corporate and individual funders, our new shelter will be a place of respite and hope  for up to ten families of five on the ground floor and 50 women staying with The Sophia Way on the second floor.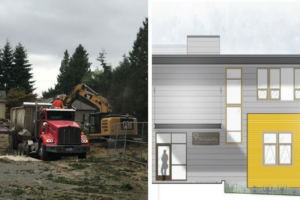 The Sophia Way has successfully raised $924,000 of our $1.3 million goal. We are counting on our supporters like you to help us hit our final target. With special naming opportunities to honor our late founder, Helen Luezzi, you can join Helen's Hall of Hope for as little as a $1,500 contribution and know that your gift will help thousands of women for years to come. For more information about how to participate in our Building Futures Campaign, please contact Linda Benson.
A huge blessing was bestowed upon The Sophia Way with a significant gift from Grace Lutheran Church. Due to declining participation, Grace Lutheran made the tough decision to sell its property. Turning what most would consider a heartbreaking decision, church members transformed it into an impactful choice—sharing the proceeds of the sale with a number of organizations throughout the community. Having been supportive of The Sophia Way since our inception, Grace Lutheran chose to bestow a significant gift to us, which will shore up our finances and serve as a source of emergency funding in the nonprofit world of ups and downs. Their donation allows us to continue important programs that are sorely underfunded. Read more about this munificent gift of grace in the story below.
Gratitude for our board, staff, volunteers, and financial, meal and in-kind donors is everlasting—your support allows us to continue to help women overcome homelessness. Thank you from the bottom of our hearts.
With appreciation,
Alisa Chatinsky
Interim Executive Director