10 May

Asmi Vohra joins the Board

We are delighted to announce that Asmi Vohra has joined the Board of Directors at The Sophia Way.

Asmi is a Senior Human Resources Leader at Amazon with expertise in human capital management, organization effectiveness, cultural change, and change management. She worked with pharmaceutical companies in Chicago for 15 years before moving to Seattle in 2016. Asmi brings much-needed wealth of knowledge and experience in human resources as our staff roster continues to grow.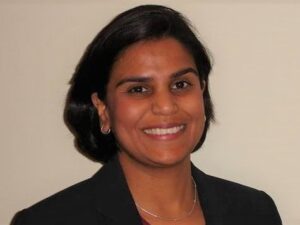 I joined the board because
I was struck by how the organization began. Helen Leuzzi's vision of wanting to create something for women in need and her drive to empower them spoke to me.
I was also excited to get an understanding of where the organization is in its lifecycle. I see The Sophia Way evolving as it expands and is more established in how it operates and serves women. Being a part of that journey and supporting this important initiative deeply resonates and appeals to me.
Understanding the issue of homelessness
It has been shocking to see how much of it is there in the Puget Sound Region. When we would see someone experiencing homelessness, my son would suggest we give them money, and my thought was that I don't know if that is the best solution as I have been reading about homelessness and learning through Amazon's work with Mary's Place.
I like to solve problems at the root, and I feel there is no one solution; instead it needs a multi-pronged approach. The first step is to understand what causes people to experience homelessness, support them with what they need, and build systems that give them stability. I hope to learn more as I embark on my journey as a board member with The Sophia Way.
HR is my passion
I enjoy working on building capabilities and capacities in people and organizations. I am at my best when I am able to solve complex problems. My work is centered around three areas – empowerment, sustainability, and capacity building. My view is that people impact companies. You have to build capabilities in people, which leads to them feeling empowered and results in sustainable organizations.
I'm excited about
Supporting the mission of The Sophia Way and bringing to the table my skills and learnings of HR and organizations development. I can take the complex and simplify – declutter the noise that often surrounds growing organizations / teams. And, offer support in setting up systems, processes, mechanisms that will help the organization grow. This comes from my work at Amazon, which is very data-driven, both quantitative and qualitative.
When not working
I enjoy spending time with my son and doing things he is passionate about. He started high school online last year, which was an interesting experience. I like to read and travel and am always searching for the next great book to read or the next place to visit. I am curious and love to learn different things, and when I want to wind down, that is what I do. Meditation plays a big part in my life and helps me balance the work side of life.