11 Nov

Bellevue Christian Church Gift Helps Women Get Into Housing

This gesture is an example of how the community comes forward to house women experiencing homelessness.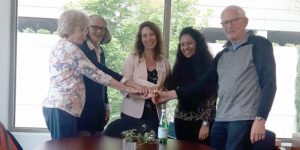 The Sophia Way and Bellevue Christian Church (BCC) are long-time partners in the Bellevue community. I became aware of this when I, as BCC's administrative assistant, prepared the church's newsletter. Information would come in from members of the church and quite often there was a story or thank you related to The Sophia Way.
Inspiration comes in many forms. Mine was when I realized that the folks at BCC were aging out of their building. BCC ended up selling their building in 2012. In 2017, a team comprising of long-time members had the intention to distribute funds to local organizations. This was such a meaningful way to have an ongoing connection in the community.
Jim Richards, Connie Jones, Jean Macdonald and myself met with Kavya [Dharmarajan] and Angela [Murray] to deliver a check to The Sophia Way in the amount of $15,000 to help support the Rosco Fund. These funds are able to financially and physically move women into housing quickly, sometimes as soon as within four hours of receiving housing notification. Such funding can be used to move unsheltered single adult women rapidly off the street and into settings that are safer and more secure as quickly as possible.
BCC also donated to 21 other organizations in the community.
Clouds may have obscured what BCC once was but the silver lining of their legacy will live on through the generosity, meaning and results of their gifts. "
– Chris Lona, Administrative Assistant, BCC