14 Aug

Bellevue Downtown 'Movie in the Park' 

The Sophia Way was chosen to be featured at the first of this year's Downtown Movies in the Park on July 11th. This was also the first movie showing in the newly renovated Bellevue Downtown Park. It was a beautiful night for a movie and hundreds of families came out to enjoy it!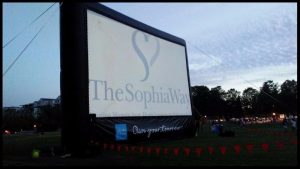 Staff and volunteers from The Sophia Way were in charge of popping and serving popcorn to the guests, and also got the opportunity to talk to people about who we are and our mission. We collected donations, and best of all, our short video was shown before the movie, so everyone there got to learn about the importance of what we do.
View the video that was played.
Thanks to all who came, and to the City of Bellevue for having us!