08 Apr

Building A Community At The Shelter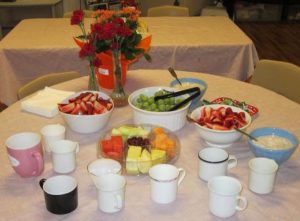 There has been a big shift, client-wise, in our 21-bed overnight shelter program. Since many of our clients have got into their own home, we have a lot of new clients at the shelter who are bringing a lot of positive and encouraging energy.
A staff member started a new group for our Night Shelter clients called 'Tea & Treats'. It's a monthly group where they try different teas and snacks. We are hoping to incorporate all different kinds of teas from around the country and the world. The goal of this initiative is to create a sense of community within our clients.
Last month, they enjoyed a green jasmine flowering tea and snacked on some fresh fruits with homemade maple yogurt dip. One of the ladies living in the shelter shared her yogurt dip recipe!
In addition to the 'Tea & Treats' event, we want to add poetry as an activity as April is National Poetry Month. We would love to be able to share some inspiring poetry with our clients and also have them express themselves through poetry. We have some very talented writers currently in our community. In fact, one of our shelter clients regularly shares her writings with us. We would like to encourage her creativity and the creativity of other ladies.