22 Oct

Thank You, Butterfly Effect Group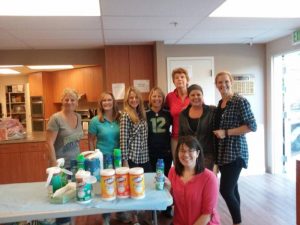 We are beyond grateful to the ladies of the Butterflies Effect Group for their very generous donation of time and supplies.
They came to our shelter on the afternoon of September 30th, and not only did they spend 3 hours on their busy Friday afternoon to clean our shelter (and did an incredibly thorough job!) they also donated bags and bags of much-needed items – cleaning supplies, snacks, socks and underwear, make-up sets, gift cards, and more!
Our Volunteer Coordinator, who led the project, said: "I was so impressed with the way everybody was so eager to get right to work, and took the initiative to find what needed to be done and took the time and effort to do it so thoroughly. I was also very touched that several times throughout the evening, members of the group approached me and asked if there was more they could offer. Generous and dedicated people like all of you are truly the reason that we are here. We are so grateful to be a part of this incredible community."
Thank you, Butterflies!