17 Sep

Caring Corporates

We are always grateful to the groups of people who come together and volunteer at Sophia's Place and Holly House.

Recently we had two groups.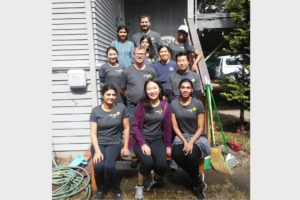 We had a wonderful group from Expedia visit Holly House. They did yard work and some cleaning. Best of all, they donated a brand new lawnmower to help us get the job done in the future!
We are so grateful to be a part of Expedia's Day of Caring each year!
Employees from Visit Bellevue Washington came to the Day Center at Sophia's Place and spent over two hours wiping tables, dusting, cleaning windows, sweeping/mopping floors, cleaning bathrooms and cubicles, and organizing the storage area and pantry. They also watered and weeded the garden and flowerpots!
"Thank you for giving us an opportunity to come to The Sophia Way.  Your organization is truly amazing, and it is clear that you and your staff care deeply.  I can certainly confirm that we were all changed when we left." Jane Kantor, CMP |Director of Sales
Thank you Visit Bellevue Washington, for making a difference. You were a fantastic group, and we are thrilled with the clean space!