17 Feb

Celebration Time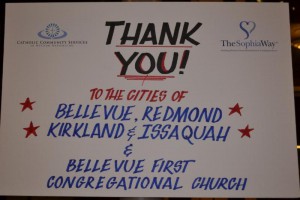 Catholic Community Services of Western Washington and The Sophia Way had an intimate thank you celebration for the Cities of Bellevue, Redmond, Kirkland and Issaquah for helping us open our second Emergency Winter Shelter.
The celebration event was held at the shelter which is hosted by Bellevue First Congregational Church. There were 25+ guests from various cities and service agencies who attended the gathering.
The community came together and provided an additional 50 beds for women to sleep in during the coldest months of the year!