20 Jun

Cheers for Volunteers!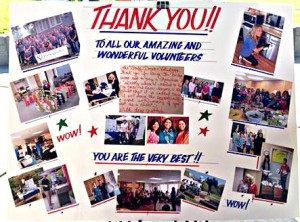 Thank you to everyone who came on June 9, a chilly, rainy Thursday afternoon, for our 'Cheers for Volunteers' picnic! We were glad to see the many long-time volunteers, new volunteers, and future volunteers, and have the chance to thank you for all that you do for us!
About 30 people came out to enjoy some pizza and snacks, receive certificates of appreciation, and chat and get to know each other and our staff and board members who were there. The wind made things a little tricky, but fortunately we had the beautiful picnic shelter at Crossroads Park in Bellevue to keep us dry – the sun even poked its head out by the end of the evening!
We have a volunteer appreciation event once a year, but really, we could never begin to give back to you as much as you give to us. We will say it again and again — we would not be here doing the good work that we do without the time, talent, and support of so many wonderful volunteers.
We are grateful to you not just once a year, but every single day.
You are The Sophia Way. Thank you!