02 Jan

Kathy Goodwin's companion experience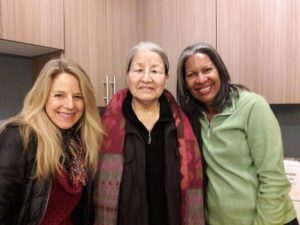 I became involved in the Sophia Way Companion program over a year ago and can say it has been one of the most rewarding experiences I have had. In this short span of time, I have met women from all walks of life – two of which I have had the honor to companion and share their journey side by side.
As Companions, we provide a monthly potluck dinner and Bingo night for clients of Sophia Way's day shelter where we gather socially to share food, conversation and have some fun. These gatherings also serve as an opportunity for clients of Sophia Way to meet the companion volunteers who are available to partner with them while at the shelter as well as on their journey toward securing permanent housing. The Sophia Way Companions offer accompaniment, a listening ear, and sisterhood to their shelter partners. We are available to our partners for activities such as coffee meetups, walks, and helping with errands or getting to appointments.
Recently, I was given the opportunity to assist in a move for one of Sophia Way's longest clients, Zandra. Two other companions (Debbie and Patricia) and I worked together to help Zandra pack her things for the move on a rainy Saturday, and I returned a couple of days later to help with the remaining items. It was a pleasure to meet Zandra and learn how she was able to secure housing with the help of Sophia Way.
It has been such an honor to be a Sophia Way companion, and I look forward to continuing my involvement in the new year.
– Kathy Goodwin, Sophia Way Companion