13 Jun

Conference Musings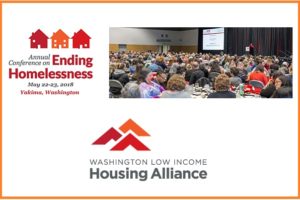 Cynthia Brown, Director of Emergency Services and Alexis Harden, Director of Client Services and Shelter had the opportunity to engage in conversations with the community at the 2018 Annual Conference on Ending Homelessness in Yakima on May 22-23.
Here they share their views and learnings.
Cynthia Brown
This was my second year to attend this conference.  The opportunity to network with providers from across the state as well as to hear about successful programs and approaches is always welcome.  I walked away from this event feeling energized with all of the work that The Sophia Way has planned but also with the reality of the amount and scope of work that needs to be done.  Washington State is in crisis when it comes to our most vulnerable.
Given my nursing background, the part of this meeting that stayed with me and where I will focus my energy is on Medical and Behavioral Health Respite.  We have to create a safe space for those with acute health issues to recover. I receive calls fairly regularly regarding women who are no longer ill enough to be in the hospital but still require a stable place to continue their recovery.  Imagine if you had day surgery and instead of your comfy bed, you had to sleep on a mat on the floor in a shelter and leave first thing on the morning whether or not you felt well enough to get up.  This is reality for those we serve.  Steve Maraboli offers, "A kind gesture can reach a wound that only compassion can heal." What is more kind and compassionate than a clean, quiet, safe space for that healing to take place?  Serving the most vulnerable requires advocating for wellness across the needs spectrum.  I am up for the challenge as a walk beside the allies that I met at this important meeting.
Alexis Harden
Over the course of the two days, we were able to attend multiple sessions with various providers and agencies throughout the state of Washington to discuss homelessness in each of our communities. From these sessions, we were able to walk away with an abundance of new knowledge and resources to better support our clients and staff. Additionally, we had the opportunity to listen to politicians including Bob Ferguson (Washington State Attorney General), and their current efforts in the battle to end homelessness.
On the final day of the Conference, there were closing remarks made by Marc Dones (Associate, Equity Initiatives, and Diversity, Center for Social Innovation). In his closing keynote address, he made an eye-opening statement. In summary, he referred to America as being the land of imagination. He went on to mention how we imagined going to the moon and we got there, we imagined diving into the depths of the deepest parts of the ocean, and we created submarines and made it happen. What was empowering was when he stated how, if we can imagine these dreams and make them realities, why can we not imagine ending homelessness and making that also a reality? He reinforced our ideas at TSW that we each play a role, and that we can all be apart in taking ownership of the problem within our communities, and supporting one another in making the image of homelessness ending a reality.