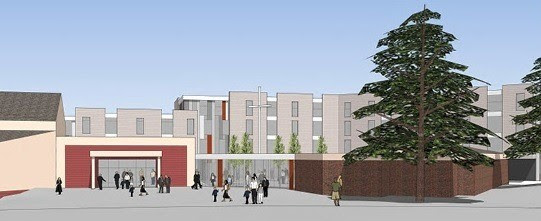 07 Mar

Construction near St. Luke's Lutheran Church

If you have visited our Sophia's Place Shelter in the past few weeks, you probably noticed the construction happening in what used to be our parking lot!

We are thrilled that Imagine Housing has broken ground on their new affordable housing complex, 30 Bellevue, which will provide affordable housing for 63 local low-income individuals and families, meeting a huge need in our community.

The construction means that the back parking lot which used to be dedicated to our staff, clients, volunteers, and donors, is now fenced off and closed. If you are dropping off a meal or other donations, please park in the fire lane to the left of the church – there is a sign marking Sophia's Place Loading Zone and a paved walkway that will take you to Sophia's Place entrance.

If you are visiting for more than a few minutes (using our services, or for a tour or volunteer orientation, etc.) please find a parking spot in the lot in front of the church.

We appreciate your patience and understanding as construction unfolds over the next 18 months. Thank you for your cooperation!

Please email info@www.eastnewtonstreet.com if you have any questions.