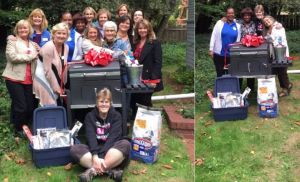 01 Oct

Continued Partnership with Assistance League® of the Eastside
On October 2, the Help4Homeless committee members of Assistance League® of the Eastside provided lunch, flowers, gift bags, a new BBQ, BBQ supplies, and costume jewelry for the six women that live in Holly House, a transitional house of The Sophia Way.
It was a wonderful experience sharing the day with these lovely ladies and their case manager. We shared food, time, conversations, smiles, hugs, and support with each other.  It was wonderful to connect with such lovely women and our hope is they know Assistance League of the Eastside cares about them.  By the smiles and tears that we received, we believe they do!
-Marlene Vacknitz and Tracey Miller,  Co-Chair, Help4Homeless Committee