26 Feb

The Sophia Way Cooking Club

Food is the gift of life and we couldn't be more grateful to our large community of meal donors who make home-cooked lunches and dinners for nearly a hundred women at our shelters.

On February 25, we had our first meeting of The Sophia Way Cooking Club to celebrate and appreciate what they do to nourish women. It was wonderful to put names to faces and see people make connections as Deb Knaus and Maya Subramanian spoke about why they provide meals.
And, our amazing guest speaker, Chef Laura Taylor gave some great tips on how to cook for large groups.
Start by cooking in a clean environment
Plan ahead and make lists to stay organized
Keep dietary restrictions in mind and focus on nutrition
Use your slow cooker(s)
Buy ingredients and supplies in bulk at wholesale clubs and food service store
She has also written a blog for us sharing comfort food recipes that will scale up well for serving a large group of guests.
Happy Cooking!
Read more tips from Chef Laura and voices from the community
---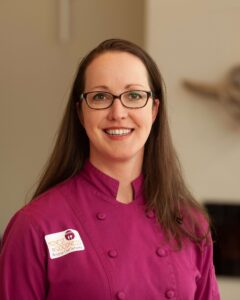 Laura Taylor is a Certified Personal Chef and started her own business Honest to Goodness in 2012.
Honest to Goodness is a team of cooking professionals that serves busy people who don't have time to cook for themselves or their families. They offer a range of personalized solutions including custom menu planning, grocery shopping, in-home cooking, dinner parties. Laura's training in sales and marketing, combined with her passions for cooking and food service, has successfully established her company as a major player in personal chef services in Seattle. Honest to Goodness has served the Seattle Seahawks, international business leaders, and created custom event experiences. Chef Laura has also been nominated as 2015 & 2017 Personal Chef of the Year by the United States Personal Chef Association.
---