16 Jan

Cooking in Community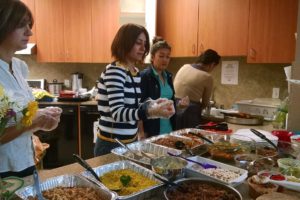 Every day, we serve nearly 40 breakfasts, 40 lunches, and 21 dinners at Sophia's Place, as well as 40 dinners at our Emergency Shelter. These meals are prepped, cooked, and donated by our generous "meal donors" some of whom have been doing this for nearly a decade! We are immensely grateful to them for providing these vital and nutritious meals, given that for many of the women, this will be their only source of food.
But, we are facing a challenge – as the number of women coming to our shelters is increasing, we, unfortunately, have days when there are no sign-ups for some of the meals, which requires our staff to scramble to get a hot meal on the table. It also requires that we dip into operating funds to provide these meals, which this past year resulted in a significant amount.
As we communicate these needs to the community, we are asked many questions ranging from "what should I get," "can I cook at the place," "how much of each item is needed," "what about allergies" etc. It is clear that we have an unmet need on the one hand and a gap in knowledge and skills among those interested in meeting that need.
We are excited that one of our board members, Maya Subramanian, has stepped up and is organizing informal gatherings to share and learn how to make meal donations to The Sophia Way.
On December 28, the first meet-up was hosted at the home of our wonderful supporter, Archana Verma, which was attended by board members, Karina O'Malley, Angela Webber and several keen members of the community. Our superstar donors, Sue Ford and Michele Andrews, led the session by sharing why donating meals is important to them, and how they go about it. It was followed by a rich discussion on various aspects of food prep and delivery. The attendees left with a detailed handout with advice, tips, and useful links.
The second meet-up was hosted by Maya at her home on January 13. Shelley Benson (Board Member), Sujata Agrawal (Communications Manager) and several enthusiastic women attended. Maya spoke about the meal donation process. The women also talked about where they are in the giving journey, why they believe it is important to care for the women of our community, and how many of them are ready to do it.
The meet-ups are leading to several meal donation circles forming, and we hope to share their stories in the future. A meal-prep demo in the kitchen of an expert donor and a meet-up to learn about volunteering opportunities other than meal donations are planned for the months ahead.
If you are interested in attending a future "how to prep a meal" meet-up or would like to form a meal donation circle, please contact Maya Subramanian at emkayess@outlook.com. We look forward to seeing you there.
To donate a meal, please click here.