23 Aug

Cooking Lessons!

We love our meal donors! They provide healthy and wholesome meals for the women who are experiencing homelessness and need support and services. And, we want our meal donors to have a good experience too! Many of them have questions, such as "What should I get" or How much should I make?". Often it can be overwhelming to cook for 30 people!

In December 2018, we started meal meetups, an informal gathering to share tips and understand how to make large meals simply and fuss-free. The learnings from these resulted in our Meal Donor Document that has information on cooking in a group, menu planning, and FAQs.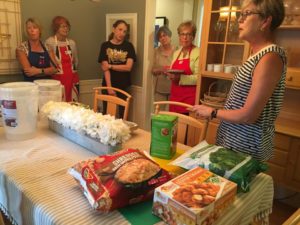 Recently, Sue Ford, our long-time amazing meal donor, hosted a meal meetup and gave some invaluable advice on how to be smart, efficient, and generous when making meals at scale for women living in shelters.
Read her tips on making and delivering meals to our Day Center
Lunch should be delivered by 10 AM, at the latest, to allow adequate time to heat or reheat. Please do not deliver frozen entrees for same day use.
1/2 size (deep) foil trays are the easiest to prepare and serve. They are safer to handle heavy food and easier to store in the Day Center refrigerators. I double mine and take home the bottom tray after serving in order to reuse.
When you consider quantity of food, assuming you are feeding 17 year-old boys is a good rule of thumb. Sometimes this is the only meal the women will eat that day.
Quality protein, fruit and vegetables are truly critical to their heath and well-being – something to keep in mind when planning menus.
Contrary to most assumptions, bread is seldom needed as part of your meal unless it is a specific compliment to your meal like cornbread with chili or biscuits. The Day Center receives large amounts of bread donations.
A baked potato bar is a great basis for a meal. I recommend purchasing your potatoes at Safeway or a grocery store; the Costco potatoes are too big. If you coat your potatoes in olive oil and wrap in foil, you can bake them and store in a beverage cooler. They will stay hot for 4-5 hours.
Download Sue's suggestions on grocery shopping and food containers.
Download some tried-and-tested recipes
Questions?  Please email us at info@sophiaway.org
Watch this short video of Sue explaining about food containers: