20 Aug

Coordinated Entry for All (CEA)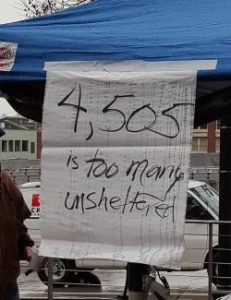 The Sophia Way is getting involved in King County's "Coordinated Entry for All" initiative. You may have heard about CEA. Ever wonder what it is?
The purpose of CEA is to ensure that all people experiencing a housing crisis have fair and equal access to housing. The system aims to work with households to understand their strengths and needs, provide a common assessment, and connect them with appropriate housing and other homeless assistance. Eligible households include all families and individuals who are literally homeless, as well as those fleeing domestic violence.
Here's how it works: A person would go to a regional access point or meet with a mobile assessor and answer a 10-minute questionnaire. The assessor then enters their information into the system making them eligible for services throughout the region based on their needs.
One benefit from this is that CEA will be able to get in touch with the person through the service providers they currently work with, rather than individual housing providers trying to contact someone who applied months (or years) ago. It also puts less of the responsibility on the individual to follow up with several agencies.
The Sophia Way's Program Director has been meeting with other agencies that will be  implementing CEA.  Our Day Center will likely be one of the mobile spots, as well as our Emergency Winter Shelter.
Up until the CEA is officially implemented, there is a period called the Surge, where each organization can independently start to do assessments. Two of Sophia Way's Case Managers have recently been trained and are beginning to assess clients both in the evening program and at the Day Center to enroll them and help them gain access to the wide variety of services they need.