07 Feb

Count Us In

How does a city know the number of people experiencing homeless on its streets?  It counts.

Between 2 am and 6 am on Friday morning (January 27th), hundreds of volunteers spread all over King County to witness and enumerate the scope of homelessness in our community.

This year, Count Us In utilized new and improved data collection methods for the full range of count activities including a street count of people living unsheltered, a count of people living in shelter or transitional housing, a qualitative survey of people experiencing homelessness, and specialized approaches to counting subpopulations, including youth/young adults, families, and those living in vehicles.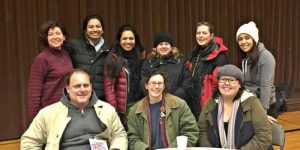 The Sophia Way assembled a team for the count here in Bellevue which consisted of clients, board members, staff and volunteers. We were split into 3 teams and were given areas to scout. It gave us a first-hand experience of how people experiencing homelessness would hide. It was alarming to see six car campers during our time out on the streets.
The results of this count are expected during spring this year. We will keep you posted.