14 Aug

Eastside Community Aid Thrift shop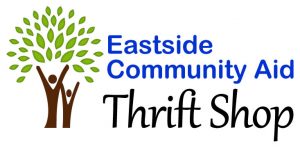 Thank you, to the team at Eastside Community Aid (ECA) Thrift shop for their generous donation of $10,000! The funds will be utilized for our Day Center Program.
Eastside Community Aid Thrift Shop, an all-volunteer run shop in Kirkland, has been a long time supporter of our work. They also honor our clients by giving them vouchers. Because of the voucher program, the clients, who are often not able to afford even second-hand clothing, get an experience of shopping for their own items. They can go around and pick out items in their size and can try everything on to make sure it fits and they are happy with their choices.
In 2016, ECA served 80 clients for a donated value totaling $5,889.45 That was an average of $73 per client.
Volunteers at ECA are happy to help these women. They feel good about helping the clients find clothes and other needed items. They feel that is one way they can help make a difference in a person's life.
Thank you for all that you do for the community and The Sophia Way.