09 Sep

Emergency Shelter Reopens

Tuesday, August 20 was a busy and banner day for The Sophia Way, as we reopened our Emergency Shelter, hosted (until October 15) by St. Peter's United Methodist Church in Bellevue. As the sun started to set, women began lining up.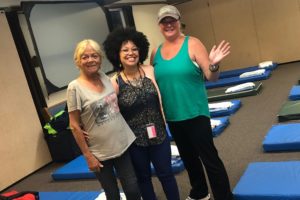 Dietra Clayton, who recently was promoted to Director of Client Services & Shelter Programs, implemented significant changes that immediately lightened the spirits of our guests. Balloons, flowers, and smiling faces welcomed our guests. Now, the women enter through the front door, where previously they had to line up at a side entrance. Previously, they were responsible for pulling out their own sleeping mats, which can be difficult for many. Now, sleeping mats are arranged prior to our guests' arrival. Currently, we have nearly 40 women coming to shelter for a hot meal and safe place to sleep and expect our numbers to rise as the season changes.
The women experiencing homelessness on the Eastside are diverse—more than one-third of those we serve are over the age of 55! We see White, Black, Hispanic, Asian, Indian clients who become homeless for a plethora of reasons – job loss, eviction, accident or illness, domestic violence, substance abuse, and more. Every woman has a unique story with unique needs—it is up to our committed frontline staff to assist her determine what change she wants and how to go about making those changes to stabilize and transform with the ultimate goal of finding a permanent home.
You can help us make a difference. Here are five ways to contribute—
We continue to be honored and humbled by our community's generosity. We thank each one of you for helping us end homelessness for women.
With gratitude,
Alisa Chatinsky
Interim Executive Director