24 Sep

Expedia Day of Caring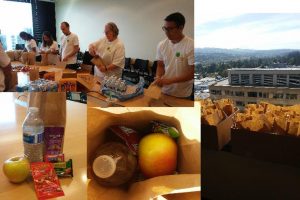 Huge thank you to the Expedia employees who took part in their fantastic 'Day of Caring' project!
Expedia employees spent their day on Friday, September 9th, participating in volunteer projects throughout the area. Ten employees gathered in a conference room at their headquarters to assemble snack bags to provide to our women. Expedia provided all the supplies – healthy, practical snacks, paper bags – and boxes to transport them. The team worked so efficiently that it only took about 15 minutes to assemble around 150 bags, and another 10 minutes to bring them down to our car!
In the summer months when our Emergency Winter Shelter is closed, many of our Day Center clients do not have access to an evening meal any night, or to breakfast or lunch on the weekends. Expedia and its employees provided the amazing gift of nourishment to those most in need. Thank you, Expedia!