08 Feb

Extending a Helping Hand

The Outreach Program is an initiative that was started by The Sophia Way in June 2017. The program aims to connect and offer help and resources to a greater number of people experiencing homelessness on the Eastside. Laura Eberhard, our first Outreach Housing Navigator, who has been managing the program since July 2018, talks about her role and responsibilities towards the women and families.

M was living in her car in a Safe Parking lot. She had a job, working at the post office, but a financial setbacks resulted in her not being able to afford the rent on her apartment. Last month she felt sick and needed open-heart surgery. The hospital paid for her to stay in a hotel during recovery, but after that, she had no option but to go back to living in her car.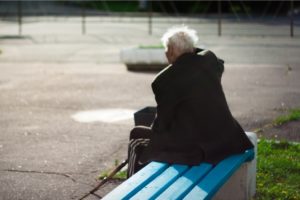 "It's important that people understand that homelessness is not a way of life that people are hoping for or choose," says Laura Eberhard, Outreach Housing Navigator at The Sophia Way. Every day she meets people like M who are experiencing homelessness due to unforeseen or change in circumstances. "A majority people that I work with are one paycheck away from homelessness. Many of the homeless population we have that are old and disabled are in their situation because they have medical issues that ate through their savings and retirement fund. Now they are living in their cars with medical equipment that they need, or getting surgery or treatment and going back to living in their cars."
The Outreach Program is an initiative started The Sophia Way in July 2018 with funding from King County and some cities on the Eastside. The work is centered on the Eastside to reach out to where people, who are experiencing homelessness, are. Unlike Seattle, homelessness is not as visible on the Eastside. So Laura started by connecting with and building partnerships with organizations such as libraries or Sea Mar Community Health Centers, which is where the homeless hangout as it is warm and dry. She gets many referrals from them and will build more partnerships this year.
Laura's role is to meet people, ask what they need and try to connect them with appropriate resources. She also spends time in calling the apartments and understanding options. "It takes time to do the research, but it's important because I can't house people unless I know what and where is it available."
Ninety percent of the women are looking for affordable housing. In Bellevue where the median rent is more than $2,000, finding affordable housing is like looking for the proverbial needle in the haystack.
At meetings with her clients, Laura tries to give them the real picture. Many of them are around 45 and older, and on disability or social security. Some of them have specifics about the neighborhood they want to live in or the amenities in the apartment "I want to help them get what they want, but I also have to give them a reality check on what they can afford and what is available. And even though some of them have income, it's not enough to pay the rent." Unfortunately, the outreach program is not able to provide rental assistance.
Laura spends her days mostly visiting libraries, meeting people and informing them about the resources available – not only for housing but for shelters, and where they can take a shower or do laundry. "A large majority of people whom you would walk by, you won't realize that they are living in their cars because they do their best not to appear homeless; they keep themselves clean."
She is also working on putting together a comprehensive resource guide that will include a detailed list of the different housing opportunities available in Washington State.
Coordinated Entry is another area of focus for Laura. She helps the people she meets to be assessed so that they can get into the coordinated entry pool; and provides referrals to organizations such as the Women's Referral Center, the YWCA, Hospitality House. "Even though some of these places have a long waiting period, people are willing to pursue the options. They want to be at a place where they can stay during the day, especially older people or the ones that have medical issues. It's not easy for them to get out and find somewhere to be during the day."
In the last six month, Laura has met nearly 20 unique women each month. Some she will meet regularly for a few months, some she will see intermittently. She has helped three people with moving costs, prevented an eviction for one person, and connected many with shelters. (Women are connected to The Sophia Way; men to Congregations for Homeless; families to New Bethlehem; and youth to Friends of Youth.)
Working in outreach gives Laura the satisfaction of being out in the community and helping people with resources they did not know of. Having done outreach earlier for the veteran's population in Spokane Laura is applying her learnings to help the homeless on the Eastside. "I enjoy the autonomy and the responsibility of setting up processes and systems for this new position," she says.