11 Nov

Fall Inspired Dinner at Sophia's Place
17,416
That's the number of meals (lunch and dinner  served at our Shelter and Day Center in 2017.
Volunteers, the backbone of the work we do, provide three meals a day, EVERY DAY of the year. Our Grateful Thanks!
And let's be honest–preparing a meal for potentially up to 40+ women is a huge task. Preparing that meal, delivering it to our Day Center or Shelter is even more work. Preparing that meal, delivering the meal, and SERVING that meal clients is an admirable and rewarding volunteer experience.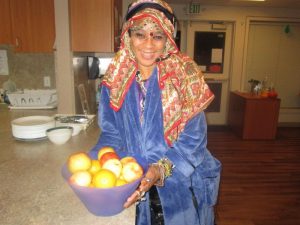 Last week, the Night Shelter enjoyed a lovely fall-inspired dinner. The menu included baked rice with chickpeas and sausage, oranges, apples, and pumpkin cupcakes.
Thank you to Dori, a first-time meal donor, for a delightful meal. It was greatly enjoyed!
Here is what she had to say: "It is extremely gratifying to see the clients and interact with the volunteers on call when we deliver the meals. It is also wonderful to see how well the clients are cared for. The Sophia Way is one of those shelters that enables us to serve the world, one person at a time. I'd like to thank you for opening the doors to help us make a difference."