03 Jul

Girls Doing Good

On June 22, we hosted eight very special guests at Sophia's Place. A young group from Girl Scouts of Western Washington volunteered, served dinner to the women in our Night Shelter, and sang some favorite songs for them!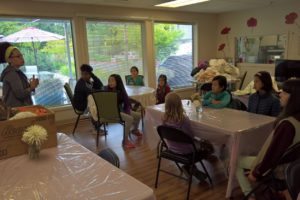 Dietra Clayton, our Programs Director, spoke to the troop about the many reasons why people experience homelessness to give them a deeper understanding of systemic issues. "As I was speaking to them they hungered for more information and we dove deeper into highlighting the inequalities in the community. Later, they engaged with our women over dinner and sang lovely songs that moved some of our women to tears. The joy these young girls gave to our community of women by being present and sharing their hearts is immeasurable." 
We share a warmly written email from Jill Tracy, Juniors troop leader, about their experience: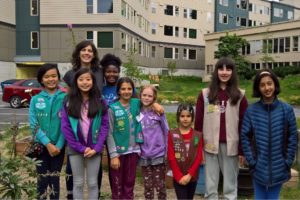 Thank you so much for the opportunity for the Girl Scouts to volunteer at Sophia's Place on Saturday!  The girls really enjoyed helping sort items, hang clothes, fold towels and tidy up!  They also enjoyed preparing and serving dinner for the ladies.  But most of all, they loved meeting and interacting with the ladies and singing them a few of their favorite Girl Scout songs.  It was touching to see a few tears when we finished with Taps.
You were an amazing host and taught the girls so much.  You shared great information about homelessness, about dealing with trauma and adversity, about the challenges of increasing living costs and job loss, of the difficulties of being homeless, and of the opportunities women can have through support from The Sophia Way and Sophia's Place. It was a truly inspirational experience for them and they loved having the opportunity to contribute.  Thank you also for your awesome leadership with the girls – you kept them focused and engaged, fostering enthusiasm and excitement about their volunteer experience.
Thanks again for this amazing opportunity!  I hope we have the chance to do it again sometime!!