21 May

GiveBIG 2016 – You made it happen!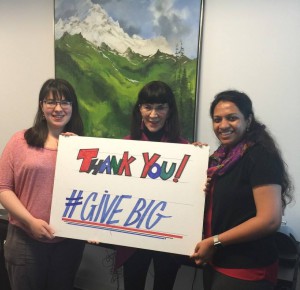 "It's not how much we give but how much love we put into giving" – Mother Teresa
The Seattle Foundation's Annual GiveBig event took place on May 3rd and thanks to you, it was our biggest GiveBig ever!
The warmth you put into your gift will directly benefit women by providing them a warm meal, a safe place to sleep or spend their day, and other basic necessities. You helped us raise $22,075 by being a part of our #GiveBIG Campaign! Special thanks to the Hayes Family Foundation, who matched your gifts by $5,000!
Thank you for joining us in our mission of ending homelessness for women in our community now and throughout the year.