16 Jan

Happy 2019!

For us at The Sophia Way, 2019 will be a year of building and reaching out to even more women experiencing homelessness.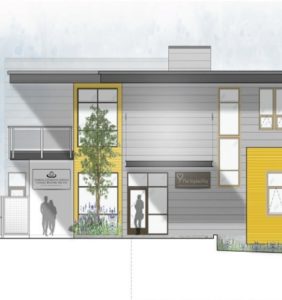 In spring, we will be breaking ground in Kirkland to begin building a permanent emergency shelter for women and for families with children. The two-story building will have almost 100 beds, and eventually, we will be serving people 24/7/365 since we know a housing crisis can happen at any time. In partnership with Catholic Community Services (CCS) and New Bethlehem Project (a program of CCS, which will serve the families), we have secured all of our public funding that will go towards this $9 million project, and it is your support that helped The Sophia Way reach 80% of our capital campaign goal. When we open doors in summer 2020, women will not only have access to a safe place to rest, eat and shower, but be assigned a housing case manager and get connected to other providers for foundation-building services, such as housing, counseling, employment, and healthcare.
Also, thanks to further funding from King County, I'm pleased to announce an expansion of our outreach services with the addition of a vehicle outreach specialist to join our outreach housing navigator. The 2018 One Night Count showed a 46% increase over 2017 of people living in their cars, RVs, and vans. The new vehicle outreach position will target areas where people are living in their vehicles for survival and connect them to life-saving resources such as rental assistance, coverage of move-in costs, and housing application fees as well as referrals to mental and behavioral health care providers, employment specialists, counseling, and basic healthcare.
We have much to look forward to in this New Year, and with your help, we will continue to get our King County neighbors into something as basic and beautiful as HOUSING.
Warm Wishes,
Angela Murray
Executive Director