21 May

Happy Family at our Emergency Winter Shelter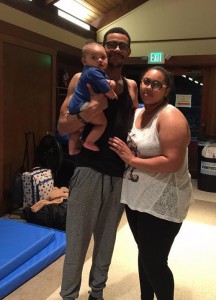 Murray, Alysia, and their 5-month old son drove all the way from New York to Seattle. After spending all the money they had in their car repairs, they could not afford an apartment in the area. They are staying at our Emergency Winter Shelter for families.
"We want the world to know how important it is to have a place to sleep at night. This shelter provides us a safe and a warm space to spend the night. Instead of sleeping in our car, we sleep here. We are confident that spending our nights at the shelter is just a phase and we will get into our own home someday. We have an interview coming up that will get us into housing; we are keeping our fingers crossed and hoping for the best. We wonder what will happen to those families and women who have to sleep outside after May 30th," says Murray.
Although the Emergency Winter Shelter is closing, The Sophia Way would like to extend special thanks to Overlake Park Presbyterian whose congregation raised the funding to extend the opening of the shelter from May 15 – 30. Thank you for being a compassionate host and helping our women and families have a safe, warm place to stay.