28 Dec

Happy Holidays!

Every year, our big-hearted community makes the holiday month grand for the women we serve. While the holidays were very different this year because of the pandemic, they were as joyous as always – individuals, organizations, and groups donated gifts making the women feel special and loved.

The holiday gifting program, managed by Megan Duncan, volunteer & engagement coordinator at The Sophia Way, was modified in keeping with the guidelines by the state of Washington. Contactless donation was encouraged with gifting from our Amazon wishlist or mailing of gift cards.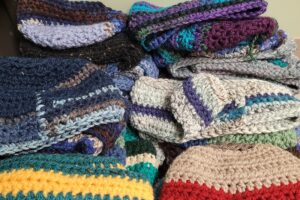 Within a month, we were overwhelmed by the river of packages that flowed into our donation center! Irene Pak, who donated handmade masks, wrote: "My mom and I enjoyed making masks to protect women, and we hope everyone stays healthy!" Eager volunteers signed up to unpack and sort the items and then pack them in gift bags. "We had to be strategic with limiting the number of volunteers, but a lot of love went into creating the gift bags," said Megan. By mid-December, volunteers had filled more than 150 gift bags with winter wear, jackets, jewelry, makeup items, shoes, raincoats, toiletries, and more!
Everyone celebrated Christmas week with great delight at Helen's Place and Sophia's Place. Staff at both shelters, helped by the women, had decorated the place and put up the Christmas tree! The women enjoyed fun activities like tie-dying t-shirts and icing cupcakes. And on Christmas Day, all women in our programs received a gift bag and a signed card.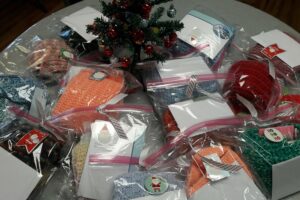 "The women were so appreciative of receiving gifts that included not only useful items but also fun and comfy things, as well as gift cards," said Gretchen Phillips-Bond, Sophia's Place lead. "They want to thank everyone who gave them all these reasons to smile!"
In a year of so many unknowns, what we do know is that the community is always there to support women experiencing homelessness. Megan sums it up: "We are truly touched by the generosity of everyone who donated the gifts. Many mentioned an urgency to give this year, in particular. When we looked at the room filled with gift bags, we felt the warmth and love that donors gave so generously."
Thank you for caring and giving gifts, especially in these difficult times.
Aldersgate UMC
Alison & James Dildine
Anand Raman
Angela Farrar
Ann G Vanderkolk
Anneli Lysen
Catherine
City of Bellevue
Claire Du Parc
Clyde Hill Benko Group
Cross of Christ Church
Daniel Bigbee
David K
Dawn Smith
Debra Fouts
Dorinda Otto
East Shore Unitarian Church
Eric Young
Friends at Google
Herzl-Ner Tamid Synagogue
Holy Spirit Lutheran Church
Jack Staudt
Jean Mills
Jen Galvan
Jessie M
Judy Eisen
Karen Taha
Karleen Snetsinger
Katalin Kerekes
Katherine Marsh
Kellie Calvert
Kim and Bill
Kim MG
Lara L
Larry Adkins
Laura Haynes
Laura L
Laura Loscalzo
Leah Baldwin
Lisa Mallory
Maureen Kisinger
Megan Renae Parker
Megan T
Meghan E Watson
Nancy Odey
Nancy Tamanaha
Parishioners of Sacred Heart Parish
Patricia Klingler
Priyanka Singh
Robert MP
Rosann Marrow
Sacred Heart Church
Sharon Glenn
Sharon Perkins
Sheila Barry
St. Madeleine Sophie Catholic Parish
Stephanie Brooks
Symetra
Team Utsav USA
Teri Ekstrom
Terrie Quillin
The Biella Foundation
The LaBoy Family
Tim Garner
Thank you, volunteers, for helping sort the gifts and pack the gift bags
Cole Robertson
Irene Pak
Kaili Tam
Laurie Ukrainetz
Leah Zarin
Mohamed Bangura
Ritsko Suzuki
Seungeun Pak
Sue Kopazna