07 Jul

Job Opening: Helen's Place Project Manager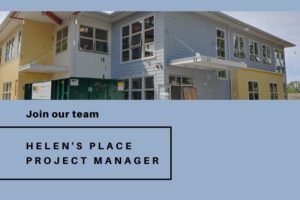 The Sophia Way is hiring a Project Manager to help us make the move into our permanent shelter, Helen's Place in Kirkland. 
Reports to: TSW Leadership Team
FLSA Status: Contractor
Position Status: Short-Term Contract
Position Summary: The Helen's Place Project Manager (HPPM) will coordinate the start-up needs for moving the Sophia Way's emergency shelter and day center operations into a newly constructed facility. This position is expected to last from six to eight weeks, until the new shelter space is up and running.
This position will be responsible for:
Coordinating building needs and start-up planning with the Sophia Way's partner agency, Catholic Community Services
Working with the Sophia Way's program leadership to determine facility needs not covered in the partnership with CCS
Placing orders for needed supplies and equipment
Receiving deliveries and cataloging inventory and assets as they arrive
Arranging for the assembly and installation of furnishings, including beds, chairs, and more
Organizing and outfitting the administrative areas as needed, including furnishings and tech infrastructure such as phones, internet access, computers, and computer peripherals
Ensuring all supplies needed to open the building for client services are in place
Assisting in coordination of client move-in
To apply, send a cover letter and resume to admin@sophiaway.org