09 Sep

Home-cooked Meals

A group of employees from Tata Consultancy Service (TCS) on the Eastside have been cooking together once a month and bringing a meal to the shelter. They share their story.

"The joy of seeing the women smile because of something you've done is the greatest gift!"

TCS  is a leading global IT services, consulting and business solutions organization and part of the Tata group, India's largest multinational business group. Giving back to the community is a fundamental ethos of the group and TCSers around the world participate in volunteer activities that positively impact the community. Here on the Eastside, every year, groups of employees give volunteer hours to clean parks, beautify schools, sort and pack meals at food banks, back-to-school supply drives, etc.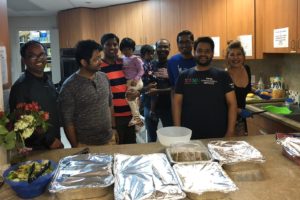 This year, we decided to support The Sophia Way in its mission of ending homelessness for women. We took a shelter tour to understand the needs and where we could help. We also wanted to involve our families, and therefore decided to organize a potluck and donate the meal to the shelter. We did our first potluck in May and the experience was so amazing that we decided to make this a monthly event.
For us, it is very much a collaborative effort – we plan a wholesome menu with starters, salad, a main dish, and dessert. Our aim is to give the women at the shelter a complete and healthy meal. We try to have a mix of Indian food as well as regular American food. Our group then decides who is going to make what and on the day, we all come together to the shelter with the meal.
It gives us satisfaction to serve the women hot food in a warm and safe environment. The joy of seeing the women smile because of something you've done for them is the greatest gift! And, when they say "Thank you", we feel a deep sense of happiness.
The TCS team includes: Kapil Manshani, Shyam Raja Muppidi, Arun Appapalam, Jaya Kalapatapu, Arif Rahman, Vandana Sharma, Siva Kumar Dola, Mohit Gupta, and their families