09 Sep

Homelessness Is a Growing Crisis

The 2019 Count Us In report indicated a drop of 8% in the number of individuals experiencing homelessness from the previous year. Despite this, homelessness remains a major problem in King County that warrants action from everyone in the community.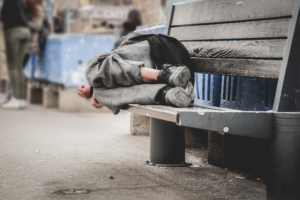 What's causing the homelessness crisis? Before diving into this question, it's critical to dispel the misconception that people experiencing homelessness are addicts, lazy, or homeless by choice. These myths hardly reflect reality. It is a multitude of factors – personal and external – that push a person out to the margins of our society. According to the Count Us In report, loss of job ranked first as the primary factor that led to homelessness at 24% followed by substance abuse (16%) and eviction (15%). Other factors included domestic violence, health issues, unable to afford rent increase, and more. Seattle's rapid economic growth cannot be left out when discussing homelessness.
From the fastest-growing big city in 2013* to the sixth most expensive place to live in 2018**, Seattle has seen a spike in living and housing costs that correlate with increasing homelessness and wealth disparities. In the process, many have been failed by our society, excluded and categorized as 'homeless'. For a long time, America has been guided by the ideology that anyone can achieve success through hard work and determination. The reality is that high-inequality countries tend to have low mobility (Ramanuj, 2019), and America's social mobility lags behind other developed high-income countries. In other words, increasing number of people are left alone with fewer opportunities available and more obstacles to overcome.
It's easy to distance oneself from the issue of homelessness – but think about it. With the housing affordability crisis, surmounting student debt and AI revolution forecasted to replace millions of jobs, the issue of homelessness can affect any who finds themselves in the unfortunate situation where they cannot pay their next rent. The interesting fact is that 84% of those surveyed were living in King County immediately before losing housing. The individuals experiencing homelessness are not strangers – they are our neighbors and maybe friends or family.
This summer, I interned at The Sophia Way because I wanted to be involved in bringing change to our community. In the two months that I worked there, I realized that it really takes a village to support women experiencing homelessness. It's not just the staff at The Sophia Way who help them. The community's involvement – from individuals to businesses and from volunteers to sponsors – collaborate to give them the services and resources they need.
Change starts with individuals who become aware of and know of issues affecting our community. Change comes when the collective individuals and businesses come together to address the growing homelessness in our region. What is your next step to help our neighbors?
~ Sara Cho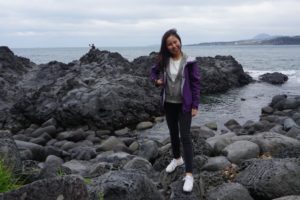 Sara, a rising senior at Dartmouth College, interned at The Sophia Way this summer. She supported the fund development team, working on the promotion campaign for our annual fundraising luncheon.
"I am truly grateful to have had the opportunity to work at The Sophia Way. It gave me an understanding and insight into homelessness that exists in our community and the support needed by those experiencing it. Although I will not be here when the organization opens its new 24/7 shelter next year in Kirkland, I will cheer on and continue to support The Sophia Way remotely from across the country. Their mission to care for the women in our community and give them a better future is commendable.
Citations
2013* Balk, Gene. "Census: Seattle Is the Fastest-Growing Big City in the U.S." The Seattle Times, The Seattle Times Company, 22 May 2014, blogs.seattletimes.com/fyi-guy/2014/05/22/census-seattle-is-the-fastest-growing-big-city-in-the-u-s/.
2018** Balk, Gene. "Beer, Burgers and Haircuts: Seattle Hits New High for Cost of Living, and It's Not Just Housing." The Seattle Times, The Seattle Times Company, 27 Jan. 2018, www.seattletimes.com/seattle-news/data/beer-burgers-and-haircuts-seattle-hits-new-high-for-cost-of-living-and-its-not-just-housing/.
***Ramanuj, Parashar P. "Bearing the cost of the American dream: reflecting on street homelessness in America." BJPsych international vol. 16,1 (2019): 11-13. doi:10.1192/bji.2017.32