10 May

Housing First In the Emergency Shelter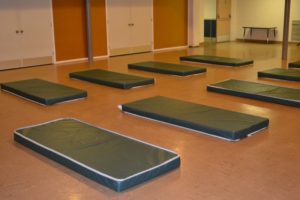 It's 3 a.m., and I've just finished my third call from the Mobile Crisis Team. They have another woman who needs shelter. We are eight days from closure (the shelter closes on May 15), and things are not slowing down. The need is too great.
That, however, is not what troubles me. The woman that needs shelter is, unfortunately, not someone we can manage. Her vulnerabilities are beyond our capabilities at present. Her needs are more than we can manage. And, that is troubling. Shelter is her most pressing need. Years of untreated mental illness, chronic homelessness, and trauma are the barriers. It doesn't matter which was the catalyst. It's a vicious cycle.
The woman is one of many we have seen this season, and who has forced us to get uncomfortable, to grow, and to adapt our services to meet the ever-changing needs of the women we serve. But, the emergency shelter is closing in eight days. And, women in need of shelter are still coming.
We began this season with a changed approach. Last season our focus was simply about shelter; this season, from day one, we focused on "Housing First" – getting women into housing as quickly as possible. Over 200 different women spent at least one night in the emergency shelter, and each one was engaged in a conversation about their perceived barriers to obtaining housing – they were asked what The Sophia Way could do to help, and offered an appointment with me to explore this further. Some welcomed this conversation; some flat-out refused. But, that was also ok.
We were successful in exiting 29 women from the shelter – 14 moved to Sophia Place; ten to their own apartment; three were reunited with family in other states; one moved to a sober living housing and one to long-term drug and alcohol treatment center. The number of women far exceeded the options available, and they keep coming to the shelter. We are, however, on the right track to giving as many as can what they need – safe housing.
Elizabeth Edwards says, "Resilience is accepting your new reality even if it's less good than the one you had before. You can fight it, you can do nothing but scream about what you've lost, or you can accept that and try to put together something that's good."
Resilience is what I see when I look around the room. Despite unspeakable trauma, women are sharing and laughing. They are planning for tomorrow and supporting each other through the more difficult days. They reach out and bring more women the next night, and they keep coming. This place is safe and familiar. There is compassion and kindness here. Elizabeth Edwards' sentiment encapsulates this season brilliantly.
We did our best work to help women put together something good to move forward. We look forward to the day when we won't ever have to close our doors. As long as the women keep coming, we will continue to be there for them.
– Cynthia Brown, Director of Emergency Services, The Sophia Way