08 Apr

International Women's Day At The Shelter!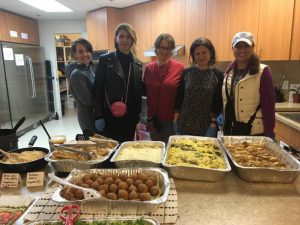 International Women's Day isn't just about giving a flower to a woman you appreciate and telling her she's great. March 8 is a symbol of the struggles that women around the world have undergone to gain equality and rights and a reminder of how far we still have to go. As women, we should take care of each other all the time. Serving and helping people is the most precious thing in the world.
Therefore, as Turkish Women Charity and Aid Organization (Turkcha), we wanted to visit, provide some food, and bring some presents to the ladies who came to Tthe Sophia Way's Day Center on International Women's Day.
We just wanted to make them happy and surprise them. When we saw their eyes light up we understood our purpose had been achieved.  A lady told us that she felt very special today and added she felt that today was like Christmas. It was nice to see the ladies happy and this was a great Women's Day present for us.
All people would like to feel that they are cared about by others, and get some attention. Everybody is busy with their own lives. Sometimes, it is easy to forget to give our attention and love to each other and others. We believe as human being we didn't come to the world to live only for ourselves. Women have infinite capacity; most of the time we aren't aware of how big our capacity is. Women should use their infinite capacities for others' welfare. If we all  can do that we'll discover the real life.
Whatever we look for, don't look for it here or there. Look for it within ourselves. "Here" and "There" are both within. Rumi, who lived in Anatolia in the 13th century, said that "Woman is a ray of God. She is not that earthly beloved: she is creative, not created."
We are so grateful to The Sophia Way for giving us this opportunity.
Write-up by Dilek Anderson from Turkcha.