08 May

Job Well Done!

"Oh my goodness, I love how clean it smells and how fresh it feels in here."

Who doesn't like coming home to a clean place? In April, our shelter received tons of love and care as volunteers swept and mopped, dusted and cleaned every inch.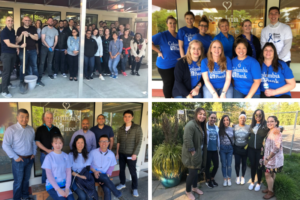 We were privileged to host groups of employees from ZTE-USA, Columbia Bank, Banana Republic (Bellevue store) and a team from the LinkedIn Legal Department who took time from their busy conference schedule to volunteer at Sophia's Place.
Volunteers rolled up their sleeves and armed themselves with dust cloths, brooms, mops, Windex and Clorox wipes to deep clean. They rearranged the storage areas to free up much-needed space and diligently cleaned out the refrigerators. Volunteers even cleaned and prepared the BBQ grill for the summer, and weeded and prepped a new flowerbed for  our clients to plant. They also brought delicious food and put together personal hygiene kits that were much appreciated by the women.
We greatly appreciate our volunteers'  acts of kindness for our guests  experiencing homelessness. Their hard work shows how much they care.
And we love it when they tell us: "It's our pleasure to have this opportunity to volunteer. We will definitely come back again."