08 Feb

Leisure Time at the Shelter

Paula Seeger graciously offered to hold a sewing project for the women at our shelter and teach them quilting. She writes about the experience and what it meant to her.

Thank you for allowing me to come and help teach the women to sew and to give some of them the opportunity to sew after many years.  One of them had learned on a treadle machine much as I did; another lady recalled sewing with her mother and quilting at church, and one young lady had never sewn before and was very proud of the fabrics she sewed.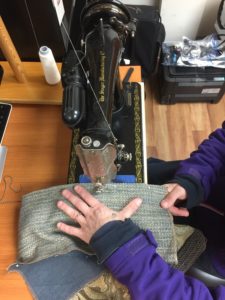 It was a delightful evening. Their teamwork and decision-making about how to arrange the fabrics were very collaborative. They took turns at cutting, pinning, sewing, and ironing and each was proud of the row of fabrics they sewed together.  They all agreed as to the backing fabric.  I neglected to bring extra fabrics and so when we ran short of fabric for that quilt top, we stopped.
Several women who did not participate asked if they could next time.  One woman asked if she could make a baby quilt for her granddaughter's first birthday that is coming up soon. I will bring pink fabrics suitable for a child next time, so we can help her with that goal.
I am so excited that yesterday went well, the women bonded as a group, and they were very accepting of me and the project of sewing.  I am excited about doing more with this project. I suggested to the women who did quilting that they could help me tutor the others. If this is also successful, then I will apply for the grant for supplies for the women to be able to work on quilting whenever space is available.
I hope that this project will work and that the staff and the women are happy with how it all turned out.  I know I was thrilled that the day went so well.