19 Apr

Lonnie's Story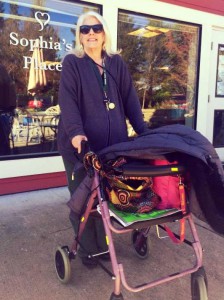 My name is Lonnie. I live on $721 a month and $492 of it goes to my rent. I used to be homeless and then, thankfully, I got into the 6-month shelter program at Sophia Way. When I became more stable, I was so thankful that I was able to get a space in their transitional home. Through perseverance, and a lot of luck, Sophia Way helped me find and move into my own apartment in Kirkland – they even helped me set up my new home by giving me household items and appliances. I have a disability and I am not in my 20's! So for me, with my limited physical ability to work, it is very important to keep my expenses less than $10 a day. How do you think I do this?
It's because I get my laundry, meals, bus tickets, case management, vitamin tablets, dental check-ups, mammograms and even my hair cut at Sophia's Place Day Center!
It's really busy at the Day Center today. Well, it's busy here every day, especially now that it's open till 3 p.m. instead of closing at 12:30 p.m. Having the extra time has made such a wonderful difference. The mood here is relaxed now. We don't have to rush and hope that we can get a shower, which is good for me since I have my walker and I'm slower. I now have time to finish my laundry and not have to pay to go to the laundromat. The women without shelter can even get in a much-needed nap, clothing, shoes and toiletries. The extended hours are really helpful for my friends who work. They now have more time to schedule appointments with caring professionals like an employment agency rep, nurse, mental health counselor, or a housing case manager. Getting connected to them is a lifeline and a pathway to independence. Every single day, there are 40 women and children that come to the Day Center seeking help with basic needs that most people take for granted.
Last week, after we were served a homemade lunch by volunteers, the Day Center staff brought out a birthday cake for Lucy – she was celebrating her 13th birthday. You see, Lucy is staying at our Emergency Winter Shelter with her mom. Something so little can mean so much – like the way the staff makes sure that we pack healthy snacks when we leave the Day Center. For some women, these snacks are the last food they will have until the Emergency Winter Shelter opens at 8:30 p.m.
And I'm lonely. I'm 62 years old and live in my tiny apartment by myself. But I have a community here at the Day Center. Most of us here have been through a crisis, so we are all able to connect with each other. Knowing that someone cares, can mean the difference between life and death for some of these women. If you're reading this – you care. When you support The Sophia Way, you're helping women like me who need the Day Center to remain stably housed as well as the women who have been traumatized and are just trying to make it day by day.
With your gift of $100 each month, the Day Center can continue to stay open till 3 p.m. and serve more women. It would mean so much to me, but it would especially mean so much to the women who are living in their cars or sleeping outside – and believe it or not, some of them are in their 70's. Please do what you can to help us stay open longer.
With high hopes and much gratitude,
Lonnie,
Day Center participant