09 Oct

Looking Ahead… to the 2017 Holiday Initiative

I always intend to ease into fall, but fall seems to take off at high speed and yes, here we are again, planning for the 2017 Holiday Initiative!

Heartfelt thanks to all of you who participated in last year's program; the memories continue to bring a smile to my face. It was wonderful working together! As coordinator of the holiday initiative, I look forward to this year's efforts, to working again with those of you I've met before and with those of you I have yet to meet. Your generosity coupled with the spirit of the season wraps our clients in care and love.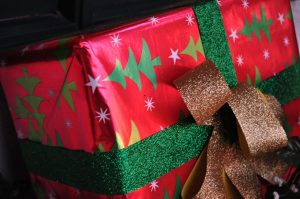 Goal: To provide clients at our Day Center, Night Shelter, Emergency Winter Shelter, and in our independent housing program with items and gift cards that will assist them in their journey to independent living and make life a bit easier for them during the process. Last year, we averaged 50 clients at the Day Center and 40 clients at the Emergency Winter Shelter in the winter, and we support 21 clients at the Night Shelter, 40 in apartments and 6 at Holly House.
This year, all donated items are due to the administrative offices of The Sophia Way by Monday, December 11th. If you need help with getting items to us, please call me and I will make every effort to pick them up from you. (See Pat's contact info below.)
What to donate? Our unsheltered women have limited space – sometimes only a suitcase – to carry all of their personal belongings with them. Gift cards go a long ways to helping them get the items they need when they need them. Stores such as Target, Safeway, Fred Meyer, and fast food restaurants offer solutions to a variety of needs. Women who have transitioned this year to apartment life have different needs from those who seek shelter at the winter shelter. If you can let us know what you might be donating, we can coordinate all the efforts so that we have something for every client who requires support from TSW.
Here are some suggested items: scarves, hats, hand warmers, energy bars, Cup O'Noodles, socks, chapstick, emergency first aid packets, toiletries (sample and full sizes), small flashlights with batteries, nail clippers and files, gum, cough drops, brushes, combs, umbrellas, instant packs of hot chocolate and tea and coffee, small folding umbrellas, rolls of quarters for the laundry, loaded Orca cards, US post office forever stamps, gloves, travel size hand sanitizers, larger quantities of sanitizing wipes for clients.
Please feel free to contact me, Pat Landy, via email at pat@sophiaway.org or by phone at 206.715.7248. When unavailable, there is always staff at the offices to help, too. I am in the offices regularly on Monday afternoons 425.463.6285 .
I know planning for the holidays begins early in the fall, so our message of thanks bears repeating throughout the season as well. We simply cannot do it with you and we appreciate your steadfast support of TSW mission and clients.
Pat Landy
Volunteer