13 Jun

Making Mother's Day Special!

Thank you to our supporters who made Mother's Day special for our women at Sophia's Place.

A donor, who wishes to remain anonymous, made "summer" gift bags for each woman. They were filled with goodies, especially for the summer months.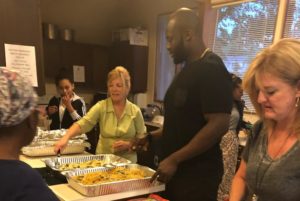 BAWSE Movement brought cheer with their Mother's Day Dinner. The table was full and the evening was made more special with the presence of Seahawks, Rees Odhiambo, who graciously served the meal.
BAWSE (Brilliantly.Awesome.Women.Support.Eachother) was founded in 2017 by Tika Smith, a single mother of four children who formed a group of volunteers that host dinners at local shelters, as well as birthday and holiday celebrations, among many other events for homeless women and children.
Tika posted this message on Facebook: "What a beautiful evening spent at The Sophia Way shelter! The ladies were wowed! It was a memorable dinner."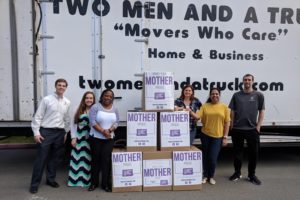 Two Men And A Truck brought a truckload of donations.
For the last 12 years, Two Men And A Truck supports a local shelter in honor of Mother's Day. The campaign, Movers for Moms, is designed to help moms in need feel a little better. For the past two years, Two Men And A Truck has worked with The Sophia Way to help give their clients a Happy Mother's Day.
This year the campaign ran from March 20 until right before Mother's Day, and they worked with many community partners, including Weidner Apartment Homes, Bob's Heating and Air Conditioning, St. John Vianney Parish, Banner Bank, and Kids Company, to raise the donations. Thanks to all of the generous donations, they were able to collect over a half of a truck worth of donations. Items donated included soaps, shampoos, clothing, bedding, and toiletries.
"Two Men And A Truck is proud to be working with such a wonderful shelter, and, supporting them in a time when they need supplies. The goal is to make each year bigger and better than the year before, and 2018 was no exception. We look forward to working with them again next year."