02 Apr

Meet Megan

Megan Duncan joined The Sophia Way on March 19 as our Volunteer and Engagement Coordinator. Hers was a trial by fire and she has stepped up to the challenges. She writes about her introduction to the organization at a very difficult time.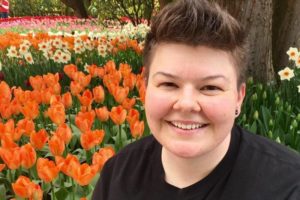 Starting a new job is exciting, but starting one during a global pandemic is challenging, to say the least. There was little time to take stock, and I had to dive in with both feet and do my best. My days were filled with coordinating meals, ensuring that on days when we had no signups, there were other options.
Arranging some of the critical supplies needed at the shelters, including masks and hand sanitizers, was the other big task. All of this was interspersed with getting oriented and learning about the organization and the team. I've been going with the flow, knowing that each day will be different, and I am thankful that my experience in event planning has proven very helpful for this work.
One of the most difficult tasks was calling meal donors to cancel meals for April to protect the health of donors and women at the shelters. I wish that my first interaction with our amazing meal donors was not canceling meals, but it had to be done.
What was exciting was calling local restaurants to provide the meals. All the restaurant owners or managers that I spoke to were very happy to step-up in place of our meal donors. Many of them are struggling to retain their staff during this difficult time, so it felt good to be able to give them some business. Finding "win-wins" is what I love most about my work. There are so many people, and businesses that want to help and making connections is rewarding. Moreover, when I heard from our staff at the shelter that the women loved the meal I helped coordinate, I felt good.
In the short time that I have been at The Sophia Way, I have been overwhelmed with our community's generosity. Everyone that I have reached out to – individuals, businesses, organizations, has been asking how they can help and giving generously. At this time, their support is invaluable.
Even though this was probably not the training the organization had in mind for my first few weeks, it has been an inspiring time to connect with my team. Each day brings something new and we are adjusting as we go along, with a steady temperament. Watching the staff face this unprecedented challenge head-on reaffirms my decision to join The Sophia Way and I feel grateful to have the opportunity to help care for our most vulnerable population.
Megan Duncan has called Seattle home since 2008 after graduating from Central Washington University. She has more than 15 years of nonprofit experience and is passionate about connecting people to mission-driven organizations. Her earlier experiences include working for the cancer support organization Gilda's Club and the LGBTQ Film Organization Three Dollar Bill Cinema. When not coordinating volunteers, Megan enjoys live music events, planning a trip to Disneyland, or re-reading a David Sedaris book. Megan and partner live in NW Seattle with their beloved wonder mutt.