30 Apr

Message From Our Emergency Winter Shelter Manager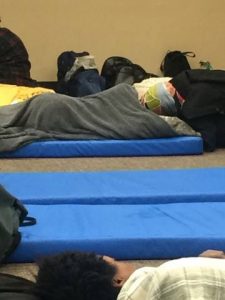 The days are getting shorter and the concern on the faces of the women is evident.
The Emergency Winter Shelter is rapidly coming to a close for the 2016-2017 season. For some women, this has been a welcome refuge and they have stayed in our shelter for the entire season.  For some it was a one or two-night safe space as they figured out next steps. Regardless of why they came, they will all have to find another place to sleep, at least until we reopen the shelter on October 15th, 2017.
Since opening, on what was slated to be a horrible winter storm on October 15, 2016, we have provided a safe place to sleep, two meals, bus tickets, winter clothing and a compassionate presence for 166 women and 10 children. We have laughed, cried, danced, and set goals with the women in our care. We have watched our ladies rally to help young mothers care for their babies. We have witnessed community developing among women from all walks of life-helping each other navigate the bus system, sharing resources, setting up mats for those with disabilities and sharing a kind word with those who were having a hard day. We have moved twice and lost and gained women along the way. It has been an amazing journey.
So, who exactly has used our shelter as a safe haven this winter?
– We have had anywhere from 3 to 40 individuals on any given night.
– Our age range has been from 2 months old to 67 years old with an average age of 56 years old.
– An overwhelming number of our women report having a disability which certainly adds an extra burden to navigating homelessness.
– We have mothers and grandmothers, veterans and immigrants.
– We have women who have worked their entire lives and continue to do so but are unable to afford rising King County's housing costs.
– We have women who struggle with mental illness for who engaging in consistent care is a challenge when navigating the all of the other circumstances that arise when you have no consistent home.
– We have those seeking safety for any number of reasons and have been honored to open our doors seven days a week for the most weather challenging months in the Pacific NW.
"I don't know where I'll go when the shelter closes." That is the common refrain as I spend time with each woman to offer resources for other shelters.  It is a bittersweet time, indeed. Good work has been done over the past seven months, but is unfortunately overshadowed by the uncertainty that exists as we prepare to close our doors. There is a sense of urgency as we push harder for a permanent emergency shelter. We are looking forward to that day when our only good bye will be as we usher women from the shelter into permanent housing. Until then, we will look forward to reopening our doors on October 15th, again, offering shelter and community the Eastside's most vulnerable and invisible population.
– Cynthia Brown, Emergency Winter Shelter Manager