20 Aug

Message from the ED: August 2016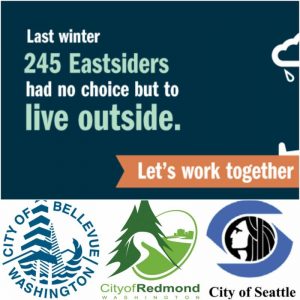 I would like to take the opportunity to thank our local Eastside cities, as well as Seattle, for their concerted and ardent efforts in tackling homelessness in our region.
The City of Bellevue, in partnership with King County, Congregations for the Homeless, and Imagine Housing are at the beginning phase of establishing a men's shelter and permanent supportive housing on county-owned  property in Eastgate. They will begin doing public outreach and engaging the community in their commendable efforts to alleviate homelessness in Bellevue. The proposal includes a 100-bed men's shelter, drop-in day center, permanent supportive housing units and space for on-site programs and services to help men transition out of homelessness and into permanent supportive housing units.
The City of Redmond has launched All In, All Home Redmond. This is a wonderful initiative to engage the community in solutions to homelessness. I encourage you to visit their website to find out basic facts on homelessness, and a list of ways for all members of the community to get involved and be part of the solution.
The City of Seattle: earlier this month Seattle voted YES to a $290 million property-tax levy for low-income housing. Revenue from the seven-year levy will be spent on building, renovating or preserving about 2,150 units of rent and income-restricted housing for very low-income people, many of them earning less than 30 percent of the area's median income. This comes at a time when federal funding for affordable housing has declined by 30% since 2010 and federal housing vouchers that are used for the most vulnerable, has declined as well.  Thank you, Seattle voters!
Thank you.
Angela Murray, Executive Director