17 Sep

Message from the ED: September 2018

Emergency Shelter – A Vital Need

This has been the first summer that we were able to keep our Emergency Shelter open. Between June and September, we have served more than a hundred women, giving them a safe place to stay each night, a warm meal, and bus tickets to go to our Day Center or other shelters during the day.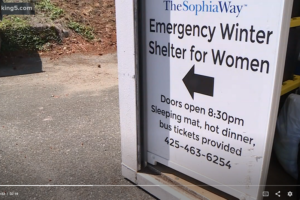 Our public funding is limited; we can operate the shelter for only seven months of the year, and therefore offer shelter during the coldest months, from October to May. This year, thanks to a generous corporate gift from Symetra, we were able to keep the shelter open through the summer.
For 2019, we aspire to keep the shelter open for the entire year since women need access to emergency shelter year round. What does this cost us? It costs approximately $25,000 each month to operate the shelter. The majority of the expenses are payroll, since most of the toiletries, and cleaning and paper supplies, as well as the meals, are donated by the community.
Our emergency shelter is a rotating shelter. We are able to operate in large part because churches have offered their space and are willing to rearrange their congregation's programming to provide a safe, warm place for women to rest. We move our shelter to whichever church can give us that space and is located near public transit.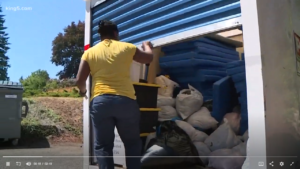 We try to keep our presence to the minimum, appreciating the generosity of the churches and their congregation. Every night, at 8 p.m. two members of our staff arrive to make the place ready for the women. They open the storage pod where we keep 50 sleeping mats and almost 100 blankets and lay them out on the floor. Our doors open at 8:30 p.m. although women are often waiting for several hours outside since they have no place else to go. Community volunteers deliver meals that feed the 30-35 women. Sometimes, however, we don't have a donor with a meal and our staff scramble to put together leftovers or buy pizza. While lights out is at 10 p.m., we do not have a curfew since we want to be accessible to women at any time during the night. Next morning, at 6:30 a.m., the staff wake the women and serve them coffee and cold breakfast. Mats are wiped down, and blankets are bagged and labeled with names for the women returning that night. Some of the women go to work, some will go to our Day Center to shower, do laundry, and have access to computers and other resources including mental health therapy. In the evening, at 8 p.m., the routine begins again to prepare the space for the women to rest their tired bodies.
As you can see, it's a demanding for all. It's challenging for the women to find a safe place to return at night. And it's challenging for us to operate a rotating emergency shelter.
We are always trying to find viable solutions to our ongoing problems. How to get funding? How to find a church willing to have their services disrupted to donate their space for 3-4 months? How to pay the staff a living wage and retain qualified staff that are trained in trauma-informed care and harm reduction? How to build a sustainable meal donor program that can grow to meet our expanding population of women in need? How to find precious staff time to tackle the arduous 4-hour job of taking the blankets each week to wash at a laundromat because there are no laundry services available to fit our specific need.
We are grateful to the community for their support and thank you for keeping us in mind for monetary and meal donations, cleaning supplies, blankets, and your advocacy to your elected officials to increase funding for life-saving shelter and low-income housing.
As we head into the colder months of the year, with your support, we renew our commitment to work harder to provide the women with the shelter and help they need.
Thank you,
Angela Murray, Executive Director