22 Feb

No woman turned away!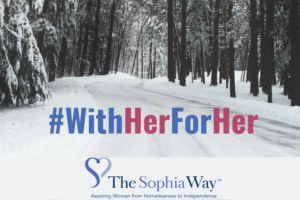 The 'snowmageddon' experienced by residents of the Puget Sound area will be remembered for a long time. For The Sophia Way staff, our community, and the women we serve, it was memorable in more ways than one. They say it takes a village…, and it was a village that came together to support women experiencing homelessness during those very difficult days and nights.
The weekend of the snowstorm, Cynthia Brown, our Director of Emergency Services shared an internal update: "There have been between 25-30 women at the shelter since the beginning of the storm.  I have gotten more than seven calls from the Bellevue and Kirkland police department needing to get women that they have found on the streets safely inside.  We even made an exception for a pet when a woman refused to come inside without her dog. We have several women with mobility challenges, including a woman in a wheelchair, who cannot safely navigate snowy sidewalks and icy streets."
The Eastside had never seen anything like it. It was a winter storm of extreme intensity – the last time the area had so much snow was in 1969; it was the third coldest February since 1945. Temperatures averaged 36 degrees and dipped below 20 for a couple of nights. Snow piled up on the ground, and the wind and icy conditions made it impossible to venture out. King County buses were operating on snow routes, but the schedule was erratic, and in some places, there were no buses. The women at our Emergency Shelter at Lakeside Christian Church were unable to go the Day Center, and the women at our Day Center and in our Night Shelter Program could not step out.
At the Emergency Shelter, a new client, who has no family and is wheelchair bound with a multitude of health issues, presented the staff with her POLST (Provider Orders for Life-Sustaining Treatment) form. This meant that if she had a life-threatening event at our shelter, the staff would need to provide this form to first responders so that her end of life wishes can be honored.
It was for her, for all the women with mobility challenges, for every woman that needed shelter that Sophia's Community – our staff, our donor, our volunteers – came together with the single-minded purpose of doing whatever was needed to support the women whose, already struggling lives, was made even more challenging because of the weather conditions.
Our office staff, on the phones in six different locations, coordinated to get the shelter staff what they needed, talking to donors for meals and supplies, and taking calls from volunteers who wanted to know how they could help.
Our Day Center and Emergency Shelter staff focused on creating a calm and safe environment for the 25 women in each place that stayed in for the next four days and night. Lakeside Christian Church supported us wholeheartedly by keeping their facility and services open.
They took turns sleeping in sleeping bags and on mats on the floor. No one thought of going home. "As we braced for the storm, even before we could reach out to our staff, they reached out to us," says Dietra Clayton, Director of Client Services and Shelter. "One staff member stated, "I have planned to stay there during the storm. I do not want the women to be out there in the cold." Adds Cynthia, "The staff never once asked how long must I stay here at work. They all wanted to know if we could stay open 24 hours with the safety of our clients first and foremost in their minds."
And, our donors stepped up and out! They called the shelter from Costco asking what was needed. They drove up in their SUVs with hot meals. They came to the shelter to help the staff serve meals.
It was demanding to support the needs of so many women (many of them with mental health issues) who are stuck in close quarters for an extended period. But, the staff kept going.
"There were highs, and there were lows," says Sam Mittman, a Day Center staff. "The best thing to see was the ladies helping cook and clean when they saw the staff needed help. While there was a feeling of cabin fever, movies and games helped to ease the tension and create laughter. While the storm was life or death for many people, I am glad that The Sophia Way was a place that ladies could find shelter and community."
A big challenge for us was that The Sophia Ways is not funded to be open 24/7. We needed financial assistance to help offset the additional cost of staffing and supplies that would be necessary to serve our clients through the storm with 24/7 on-site support.  So we asked our community: "Could they donate $10,000 to support us through this period?"  What followed was an outpouring of donations on our website. More than a hundred donors together gave over $11,000. It's true that small drops make an ocean. What an awesome community!
There were more reasons to celebrate.
On Thursday (2/7) evening, Gretchen Phillips-Bond, our housing case manager received a confirmation that her client's application for housing was approved (she had been in our Night Shelter Program for more than five months). On Friday morning, just as the snow was beginning to fall, Gretchen was at Sophia's Place to help the woman (who has mobility issues) pack her things and take her to her new home. The traffic was already getting bad, and it took an hour to travel 10 miles. "But, we did it. We reached her new apartment, and I helped her settle in. She was so happy to be in a home of her own again!"
Tiffany Rodgers, another housing case manager, braved the cold and snowy conditions to take a client to view and apply for housing. She also moved a new client into our Night Shelter Program. "I felt so happy to get her off the cold icy streets and into our program. And am so proud of our team of how much we much we accomplished that day!"
Thank you, Sophia's Community, our village, for everything you did and do!
In the words of a staff member, "This storm showed the pure unadulterated love and unity of The Sophia Way community."